CEO Message
When I founded Dheya Tawfiqi Engineering Consultancy Bureau W.L.L (DTEB) in 2003, I was inspired to offer my quarter-century of expertise in engineering, architecture and management to nurture projects that would combine efficiency in form and structure with a clear vision of human needs in an increasingly sophisticated urban landscape.
Today, DTEB offers its clients a hand-picked team of seasoned architects and engineers whose designs and concepts help to interpret our clients' vision in the most effective, cost-efficient and time-specific manner. DTEB is a solution provider for facilities and infrastructure offering the highest level of professional services in planning, design, architecture and interior design.
I believe that our rich understanding of the architectural heritage of the Arab world is strengthened by our finely-honed training in modern engineering practice. It is an amalgam that gives every design planned and executed by DTEB a desirable edge because our projects reflect the cultural environment that they are a part of – and at the same time, they stand apart because of the state-of-the-art engineering dynamics that underpin them.
The firm has a varied portfolio of projects which it has conceived, designed, and built – this includes corporate offices, government buildings; public and private institutions; religious buildings; airports; commercial and retail facilities; recreational and sports facilities and residential developments.
We are a part of your world – we are a part of your future.
Dr. Dheya A. Aziz Tawfiqi
Founder & CEO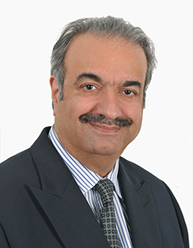 Dr. Dheya A. Aziz Tawfiqi